The XPath/XQuery Window (screenshot below) is used to create and edit XPath expressions for a range of MobileTogether features. In Expression Builder mode, it provides entry helpers, popup descriptions of context-sensitive XPath/XQuery constructs, and auto-completion. In Evaluator Mode, you can preview expression results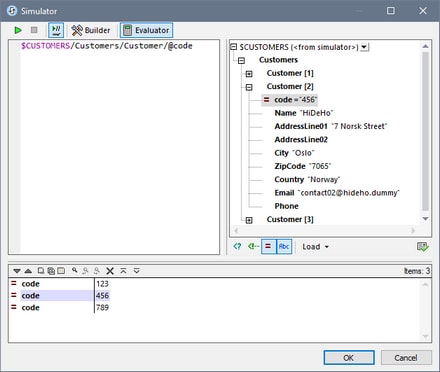 To select a mode, select its button in the toolbar.
The XPath /XQuery Window is available in two types of situations:
•In design components and other locations in the design, it is available where an XPath expression may be entered; for example, when entering expressions to set the values of styles and properties, or when composing file paths in a number of dialogs. (In the latter situation, using XPath would enable the dynamic composition of file paths.)
•The XPath/XQuery Window can also be accessed from the simulator. The XPath/XQuery Window in this situation gives you a powerful tool for analyzing how the solution will behave at various runtime stages and with different datasets.