Please enable JavaScript to view this site.
Opens the print dialog box (screenshot below). Click Preview to see a preview of the currently active document according to the settings specified in the dialog.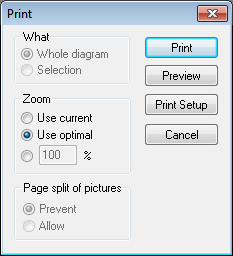 In Print Preview mode, the Print Preview toolbar at top left of the preview window provides print-related and preview-related options. The preview can be magnified or miniaturized using the Zoom In and Zoom Out buttons. When the page magnification is such that an entire page length fits in a preview window, then the One Page / Two Page button toggles the preview to one or two pages at a time. The Next Page and Previous Page buttons can be used to navigate among the pages. The toolbar also contains buttons to print all pages and to close the preview window.
Note:

To enable background colors and images in Print Preview, do the following: (i) In the

Tools

menu of Internet Explorer, click

Internet Options

, and then click the Advanced tab; (ii) In the Settings box, under Printing, select the

Print background colors and images

check box, and (iii) then click

OK

.
Displays the printer-specific Print Setup dialog box, in which you specify such printer settings as paper format and page orientation. These settings are applied to all subsequent print jobs.