Every page of a design has a set of page sources, which are managed in the Page Sources Pane. To add a page source, click the pane's Add Source toolbar icon. This displays the Add Page Source dialog (screenshot below). Here you select the type of the page source you want to add. If you want to add the same page source as one that you have used in an already existing page, then select the Reuse existing structure option and select from the existing page sources that are displayed in the combo box.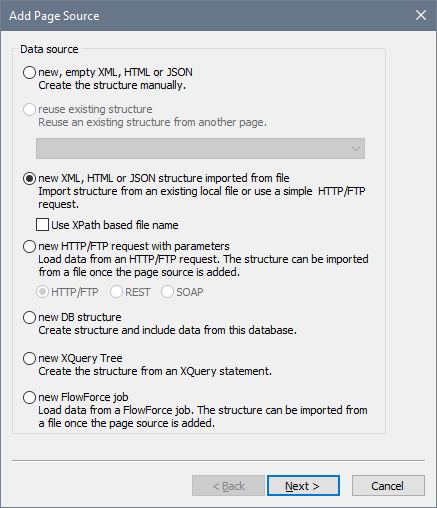 The second page of the Add Page Source dialog enables the following options to be set: (i) whether the page source is editable or not, when data is loaded from and saved to the page source, and whether data is stored on the client or server. For details of these page source options, see Page Source Options.
A number of settings for page sources and their individual nodes can be set separately. For a full listing of the context menu commands of different types of nodes, see Context Menus (of Page Sources).
For more detailed information about page sources, see the sections Page Sources Pane and Page Sources (Data Sources).