You can use databases (DBs) as data sources of MobileTogether designs. This allows data from DBs to be displayed in MobileTogether solutions. It also allows end users to edit data in DBs from their mobile devices. You can use multiple editable DB data sources. Data in these DB sources can then be retrieved, edited, and saved using a variety of mechanisms, including XQuery expressions.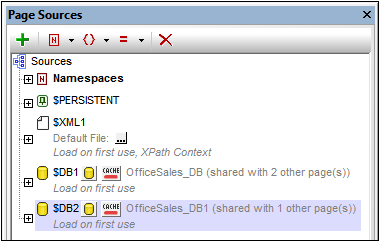 This section
This section is organized as follows:
•Selecting DB Objects as Data Sources
See the database tutorial, Database-And-Charts, for a detailed description of a MobileTogether design which uses multiple data sources that can be edited in the MobileTogether Client solution. Also see the video demos of database use.
Database support
The following databases are supported. While Altova endeavors to support other databases, successful connection and data processing have only been tested with the databases listed below. If your Altova application is a 64-bit version, ensure that you have access to the 64-bit database drivers needed for the specific database you are connecting to.
For connecting to a SQLite DB, use MobileTogether Designer's Connection Wizard.
Note
On Linux and macOS servers, the only database connections supported are JDBC.