The Page Design View (Page View for short) is the view in which the page that is going to be deployed to the mobile device is designed (see screenshot below).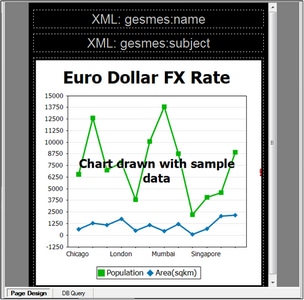 To design a page, drag-and-drop controls from the Controls Pane into the design, and then specify, in the Properties Pane, the settings of that control. Controls can be positioned anywhere on the page. As you drag a control over the page, possible drop positions are indicated with an arrow. The settings of a control can be edited at any later time by selecting the control in the design and editing its settings in the Properties Pane. Delete a control in the design by selecting it and pressing Delete.
Page view and device settings
The screenshot below shows the Page View settings in the Main toolbar. The settings you make here also determine the settings of the device used in simulations.

•Preview Device: This combo box allows you to select various mobile devices, so that the design can be previewed for specific devices. The selected device will be not only the device used in the design, but also that used in simulations. You can change the preview device at any time.
•Portrait/Landscape Preview Toggle: Toggles the design preview between portrait and landscape.
•Zoom level: A combo box to select the zoom level in 10% steps from 10% to 100%. The zoom level can also be modified via the View menu.
•Lock all page views to same device and zoom level: The page views of all open documents will be locked to the currently selected device and zoom level.