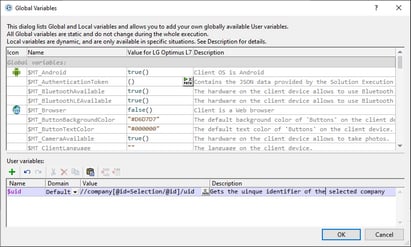 The Global Variables dialog (screenshot above) displays three types of variables:
•Static-value variables: These variables contain values that do not change during the execution of the project. Notice that the header of the Value column indicates the mobile device that has been selected in the Device Selector combo box. The values of variables vary with the client device. For example, the variable $MT_Android has a value of true() when the mobile device being used is an Android.
•Dynamic-value variables: These variables contain device-related and project-related values that can change during execution. For example, the $MT_ControlNode variable has different values according to which node is the current node at a given time during project execution.
•User variables: In addition to the standard library of global variables, you can add your own global variables (called User Variables in the dialog) in the lower pane of the dialog. You use XPath expressions to give a user variable a value.
Note:

When defining a user variable, do not use a

$

symbol in the name of the variable. When you use any global variable in an XPath expression, however, you must, as usual, use the

$

symbol. For example:




concat('http://www.',

$company

, '.com')