Results and Messages Pane
The Results/Messages pane has two tabs:
•The Results tab shows the data that is retrieved by the query.
•The Messages tab shows messages about the query execution.
Results tab
The data retrieved by the query is displayed in the form of a grid in the Results tab (screenshot below).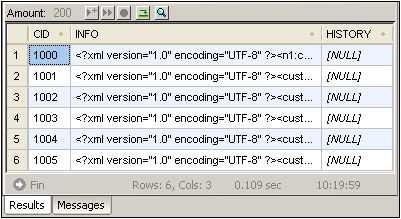 The following operations can be carried out in the Results tab, via the context menu that pops up when you right-click in the appropriate location in the Results tab:
•Sorting on a column: Right-click anywhere in the column on which the records are to be sorted, then select Sorting | Ascending/Descending/Restore Default.
•Copying to the clipboard: This consists of two steps: (i) selecting the data range; and (ii) copying the selection. Data can be selected in several ways: (i) by clicking a column header or row number to select the column or row, respectively; (ii) by selecting individual cells (use the Shift and/or Ctrl keys to select multiple cells); (iii) by right-clicking a cell and selecting Selection | Row/Column/All. After making the selection, right-click and select Copy Selected Cells. This copies the selection to the clipboard, from where it can be pasted into another application. To copy the header together with the cells, use the command Copy Selected Cells with Header.
The Results tab has the following toolbar icons:
| | | |
| --- | --- | --- |
| | Go to Statement | Highlights the statement in the SQL Editor that produced the current result. |
| | Find | Finds text in the Results pane. XML document content is also searched. |
Messages tab
The Messages tab provides information on the previously executed SQL statement and reports errors or warning messages.

The toolbar of the Messages tab contains icons that enable you to customize the view, navigate it, and copy messages to the clipboard. The Filter icon enables the display of particular types of messages to be toggled on or off. The Next and Previous icons lets you step through the list, downwards and upwards, respectively. Messages can also be copied with or without their child components to the clipboard, enabling them to be pasted in documents. The Find function enables you to specify a search term and then search up or down the listing for this term. Finally, the Clear icon clears the contents of the Report pane.
| | |
| --- | --- |
| Note: | These toolbar icon commands are also available as context menu commands. |