In certain usage scenarios, file-type and folder-type global resources can be used to specify the file or folder to use. For example, in the Page Sources Pane, the default file of a data source can be assigned via a global resource. In such scenarios, the Specify File (screenshot below) appears.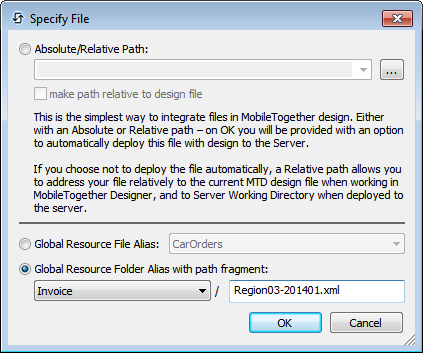 Select whether you wish to use a file-type or folder-type global resource. The combo boxes display, respectively, all the file-type global resources and all the folder-type global resources that have been defined in the currently active Global Resources XML File. Select the required global resource. In the case of file-type global resources, the selected alias maps to a file. In the case of folder-type global resources, the selected alias maps to a folder, so you will have to enter the rest of the path to locate the resource (see screenshot above). Click OK.
If the selected global resource has more than one configuration, then the database resource for the currently active configuration is used (check Tools | Active Configuration or the Global Resources toolbar).