The DB Query View (screenshot below) enables you to directly query any major database from within the MobileTogether Designer GUI. The database could be a data source referenced in the active document or an external database. Note that each DB Query pane is associated with the currently active design. The DB Query pane of a design can have connections to multiple databases open at a time. There can also be multiple designs open at a time in MobileTogether Designer. Queries and actions defined in the DB Query View are independent of other MobileTogether Designer tabs, and are not saved as part of the design file.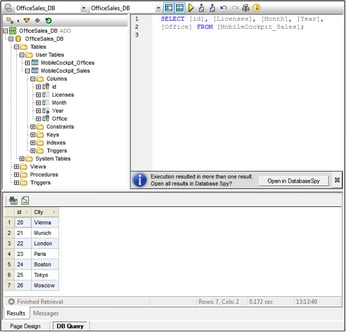 ---
The Database Query mechanism is as follows. (It is described in detail in the sub-sections of this section.)
1.A connection to the database is established via the Database Query | Connect to a Data Source window.
2.The connected database or parts of it are displayed in the Browser pane, which can be configured to suit viewing requirements.
3.A query written in a syntax appropriate to the database to be queried is entered in the Query pane, and the query is executed.
4.The results of the query can be viewed through various filters.
---
The following databases are supported. While Altova endeavors to support other databases, successful connection and data processing have only been tested with the databases listed below. If your Altova application is a 64-bit version, ensure that you have access to the 64-bit database drivers needed for the specific database you are connecting to.