Opens a MobileTogether design file that has been deployed to MobileTogether Server server from its location on MobileTogether Server. Use the Browse button to select the file on the server that you want to open.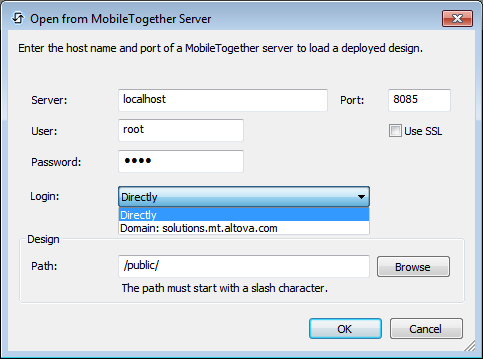 The following details are required for opening a design from MobileTogether Server:
•Server name and port: The port refers to the MobileTogether Server administrator port and must match the Administrator Port setting of MobileTogether Server. If you use SSL, make sure that you use the secure port of MobileTogether Server.
•User name and password: The user name and password of a user that has been given the privilege Open workflow from designer. MobileTogether Server users and their privileges are specified in the Users and Roles settings of MobileTogether Server.
•Login: Specify whether login is direct or as a domain user. (If login is as a domain user, then the domain-specific user name and password can be used.) From the options in the combo box, select Directly or the domain you wish to use. Only those domains are displayed in the combo box that have been configured on the server for active directory login. For more information about configuring the server for active directory login, see the MobileTogether Server user manual.
•Path and name of solution (design): The path and name of the deployed solution. Click Browse to browse through all deployed solutions on MobileTogether Server.