List Usages of All Style Sheets
A user-created style sheet can be applied to page instances, table instances, and control instances. This command returns a list, in the Listings Pane, of all the user-created style sheets in the project and where each is used (see screenshot below).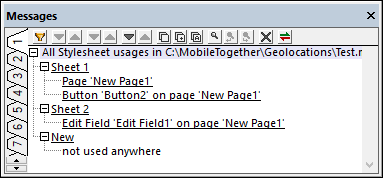 The list is ordered by style sheet. Under each style sheet, all the page, table, and control instances are listed that use that style sheet. Clicking one of these items takes you directly to the respective page, table, or control.
If a style sheet is not used, then this is reported (see screenshot above). Unused style sheets are also reported via the List Unused Functions, User Variables, Style Sheets, Action Groups command of the Project menu.