The settings in the Email tab are used during local simulations for access to the SMTP server of an email service provider (usually your ISP). They are used by the Send Email (from Server) action, which enables emails to be sent by the end user via the server. In a live, real-time scenario, the settings to access the SMTP server are configured in MobileTogether Server. During local simulations, however, the SMTP server information is not available (because MobileTogether Server is not accessed during local simulations). SMTP server settings for local simulations are therefore entered in this tab (screenshot below).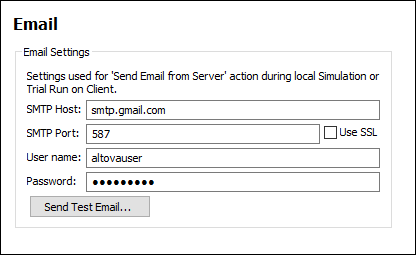 •SMTP Host and SMTP Port: These are the SMTP host name and SMTP port of your ISP's SMTP server. These details are provided to you by your ISP.
•User Name and Password: The user name and password of an email account that is registered with the email service provider.
After entering the details, click OK. You can send a test email to check whether the settings work correctly.