In the Simulation 2 tab (screenshot below), you can specify simulation settings additional to those available in the Simulation 1 tab (see previous point). These settings include the definition of data sources for the simulation of client-side apps.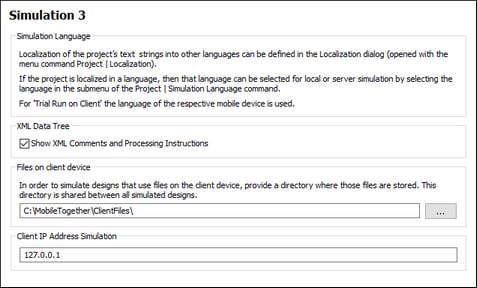 Simulation Language:
A hint about localization options. A project can be localized—that is, the text strings in the project can be translated—in the Localization dialog (Project | Localization). If a project has been localized into some language, then that simulation language can be chosen as the simulation language in the submenu of the Project | Simulation Language command.
XML Data Tree
Specifies whether comments and processing instructions should also be displayed in the simulator's XML data tree.
Files on client device:
If the design references files on the client device, then these files will not be accessible during simulations. During simulations, the folder specified in this option will be looked up for client-side files. If client-side files are saved here with the same name as that with which they are referenced in the design, then they will be correctly accessed during simulations.
Client IP Address Simulation
A random text value can be used to simulate the IP address obtained by the mt-client-ip-address function.
File paths in Windows
File paths given in this documentation will not be the same for all operating systems. You should note the following correspondences:
•(My) Documents folder: Located by default at the following locations. Example files are located in a sub-folder of this folder.
| | |
| --- | --- |
| Windows 7/8/10/11 | C:\Users\<username>\Documents |
•Application folder: The Application folder is the folder where your Altova application is located. The path to the Application folder is, by default, the following.
| | |
| --- | --- |
| Windows 7/8/10/11 | C:\Program Files\Altova\ |
| 32-bit version on 64-bit OS | C:\Program Files (x86)\Altova\ |