In the Server Settings tab (screenshot below) you can define the connection and authentication settings of the MobileTogether Server to which you wish to connect MobileTogether Designer. These settings will be used when solutions are deployed to the server and when the server is used for workflow simulation. The user must have the corresponding MobileTogether Server rights: Save workflow from designer and Run server simulation. The access rights of users of MobileTogether Server are defined in the Web UI of MobileTogether Server. See the MobileTogether Server user manual for information about how to do this.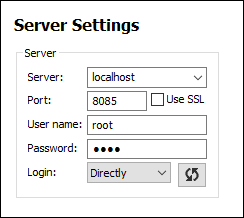 If the Active Directory login feature of MobileTogether Server has been enabled for you as a domain user, then the login information you enter for connecting MobileTogether Designer to MobileTogether Server can be your domain authentication info. For example, if your Windows user name and password on your office network domain has been enabled for use as MobileTogether Server authentication, then you can enter your domain-specific user name and password.
To select whether user credentials directly specified in MobileTogether Server or domain-specific user credentials are to be used, select the appropriate option from the Login combo box (see screenshot above). The button next to the combo box is for updating the connection with MobileTogether Server.