In this part, you will:
•Specify a default file for the page source
•Run a simulation
| | |
| --- | --- |
| | Additional Dialog |
The data that goes into a page source can be specified by selecting a default file for the page source. Do this as follows:
1.Click the Additional Dialog button of the $XML1 default file (screenshot below).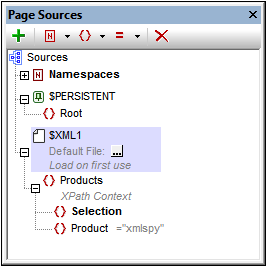 2.Select Server and Absolute/Relative Path, check the Make path relative to design file check box, and then browse for the file AltovaProducts.xml.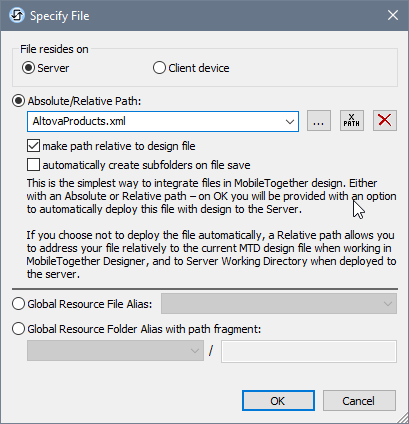 3.On clicking OK, the file will be added as the default file, and its data will populate the page source tree.
4.Click Page | Page Actions to open the Page Actions dialog.
5.In the OnPageLoad tab, select the Load from File entry and delete it. This is because the Load from File action is now redundant since the file AltovaProducts.xml has been specified as the default file of the page's only page source.
6.Run a simulation to test whether the default file is being used.