In XMLSpy, XQuery and XQuery Update documents are recognized as two different document types. The document type (XQuery or XQuery Update) is assigned to a file extension in the File Types section of the Options dialog (Tools | Options | FileType, screenshot below). When a file of XQuery or XQuery Update type is opened in XMLSpy, the XQuery editing features of Text View are available for that file.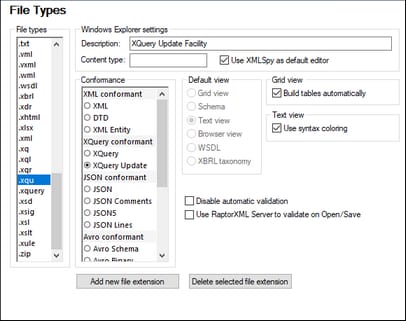 File extensions currently defined as XQuery and XQuery Update in XMLSpy
| | |
| --- | --- |
| XQuery | .xq .xql .xqr .xquery |
| XQuery Update | .xqu |
| | |
| --- | --- |
| Note: | The editing features described in this section are identical for XQuery and XQuery Update documents. |
XQuery Execution/Update
The GUI command XSL/XQuery | XQuery/ Update Execution automatically runs either an XQuery execution or XQuery update depending on the filetype of the XQuery file that is selected to be run. See the section XQuery Execution/Update for more details.