The View Settings command pops up the XBRL View Settings dialog (screenshot below), in which you can specify default settings for XBRL View.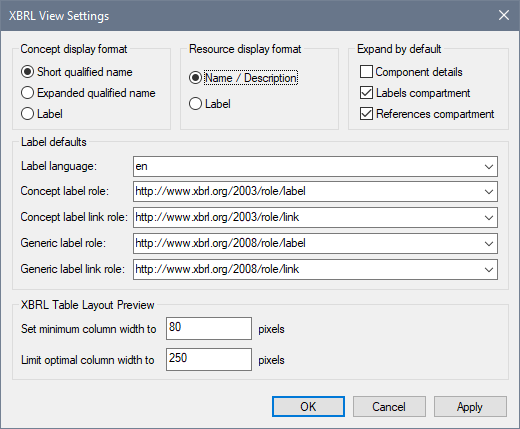 The following settings can be made:
•Display of concept names can be set to the short or expanded qualified name or to labels. These settings apply to the Main Window and the Details entry helper, but not to the Global Elements entry helper. The display of items in the Global Elements entry helper is defined in the entry helper's menu bar.
•Resource display format: In the Formula and Table tabs, resources can be displayed either by their names or labels. (If no name has been assigned, the description of the resource is used.)
•Expand by default: In the Main Window, element details, the labels box, and the references box can be set by default to the expanded state. Note that, if the labels or references boxes are set to be shown expanded by default, then the expanded boxes will be visible only when the Element details are expanded (either by default or manually). Each time the view is refreshed (for example, when the view is switched from Text View to XBRL View), XBRL View reverts to the default settings.
•Label defaults specifies the default language and the default label roles to use if labels are not defined. The combo box for each property displays a list of available values.
•XBRL Table Layout Preview: The minimum and maximum column widths can be set in pixels.