The DB menu is the menu for database (DB) operations. It is shown in the screenshot below and contains the menu items listed below. Descriptions of commands in the sub-menus of the DB menu are in the sub-sections of this section.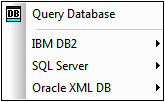 •Query Database, which enables you to query a variety of databases.
•IBM DB2, which contains commands that provide support for IBM DB2-specific functionality.
•SQL Server, which contains commands for managing SQL Server databases.
•Oracle databases, which contains command for working with Oracle databases.
The operations described in this section require a connection to a database (for instructions, see Connecting to a Database ).