The Source Control section (screenshot below) enables you to specify the source control provider, and the settings and default logon ID for each source control provider.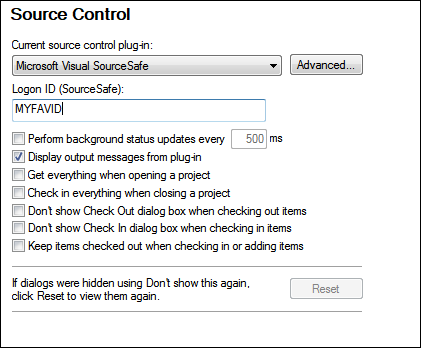 Source Control Plugin
The current source control plugin can be selected from among the currently installed source control systems. These systems are listed in the dropdown list of the combo box. After selecting the required source control, specify the login ID for it in the next text box. The Advanced button pops up a dialog specific to the selected source control plugin, in which you can define settings for that source control plugin. These settings are different for different source control plugins.
User preferences
A range of user preferences is available, including the following:
•Status updates can be performed in the background after a user-defined interval of time, or they can be switched off entirely. Very large source control databases could consume considerable CPU and network resources. The system can be speeded up, however, by disabling background status updates or increasing the interval between them..
•When opening and closing projects, files can be automatically checked out and checked in, respectively.
•The display of the Check Out and Check In dialogs can be suppressed.
•The Reset button is enabled if you have checked/activated the Don't show this again option in one of the dialog boxes. On clicking the Reset button, the Don't show this again prompt is re-enabled.
Save and exit
After making the settings, click OK to finish.