An entity in Authentic View is typically XML data (but not necessarily), such as a single character; a text string; and even a fragment of an XML document. An entity can also be a binary file, such as an image file. All the entities available for a particular document are displayed in the Entities Entry Helper (screenshot below). To insert an entity, place the cursor at the location in the document where you want to insert it, and then double-click the entity in the Entities entry helper. Note that you cannot enter entities in the Attributes entry helper.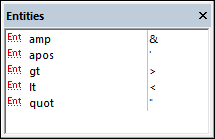 The ampersand character (&) has special significance in XML (as have the apostrophe, less than and greater than symbols, and the double quote). To insert these characters, entities are used so that they are not confused with XML-significant characters. These characters are available as entities in Authentic View.
In NanonullOrg.xml, change the title of Joe Martin (in Marketing) to Marketing Manager Europe & Asia. Do this as follows:
1.Place the cursor where the ampersand is to be inserted.
2.Double-click the entity listed as "amp". This inserts an ampersand (screenshot below).

Note:

The Entities Entry Helper is not context-sensitive. All available entities are displayed no matter where the cursor is positioned. This does not mean that an entity can be inserted at all locations in the document. If you are not sure, then validate the document after inserting the entity:

XML | Validate XML

(

F8

).
Defining your own entities
As a document editor, you can define your own document entities. How to do this is described in the section Defining Entities in Authentic View.