A new taxonomy would typically be created to extend one or more standard taxonomies. If a new taxonomy builds upon a standard taxonomy or an already existing taxonomy, it must import the existing taxonomy. Alternatively, a new taxonomy can be built from scratch. In XMLSpy's XBRL View, you can easily import US-GAAP and IFRS taxonomies into your taxonomy. The imported taxonomy can then be modified using the graphical interface of XBRL View.
The first step in creating a new taxonomy is to create its concept definitions file, which is an XML Schema (.xsd) file. Besides containing concept definitions, this file defines and declares the namespace of the new taxonomy, locates taxonomies to be imported, locates the relationships files of the taxonomy, and declares the namespace of imported taxonomies and other namespaces used.
Creating the concept definitions file
To create a new XBRL taxonomy, select the menu command File | New. This pops up the Create a New Document dialog (screenshot below).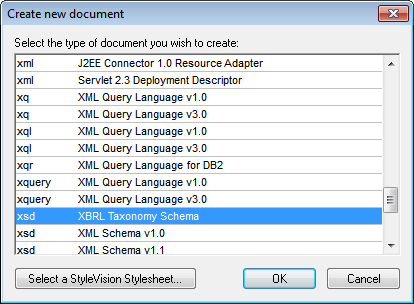 Select xsd: XBRL Taxonomy Schema and then click OK. A new taxonomy will be created.
It is best to save the taxonomy in its own dedicated folder since there will be other taxonomy components that will be convenient to store in a common folder.
Overview of taxonomy-creation steps
The broad steps for building a taxonomy are given below.
1.Select the base taxonomy for your taxonomy via the menu command XBRL | Import/Reference. If you want to build your taxonomy from scratch, skip this step.
2.Give the taxonomy a target namespace via the XBRL | Set Target Namespace menu command.
3.The namespaces of the imported base taxonomy will be automatically declared in your taxonomy. You can conveniently add any other namespaces that you want, as described in the topic Setting Up the Taxonomy Files.
4.You can then extend the base taxonomy with your own elements and relationships.
Example file: Step 1
Create a new taxonomy document and save it with any name to a suitable location. This taxonomy file is the main taxonomy file, or concept definitions file. It is an XML Schema file and must have a .xsd file extension. We will refer to the file we are creating as Nanonull.xsd. This is the same name as that of the supplied example in C:\Documents and Settings\<username>\My Documents\Altova\XMLSpy2023\Examples\XBRLExamples\Nanonull.
In the next step, we will import a base taxonomy into our taxonomy.