Multiple labels can be assigned to a concept or generic resource (formulas, tables, etc). In a relationship arc, the desired label of the target/child node is selected via that label's label role. The mechanism used is as follows:
•If a preferred label is defined on the relationship arc, then this preferred label is used
•If no preferred label has been defined for a relationship, then the default label is used
The Generic Preferred Label 1.0 Recommendation add-on specification enable the gpl:preferredLabel attribute to be defined on any arc in definitions, and in calculation, formula, and table linkbases. The value of the attribute is the label role that should be used to select the label of the target node. As a result, preferred labels are supported not only for presentation relationships (enabled by previous specifications), but for other relationships (such as calculation relationships) as well.
Preferred labels
Preferred labels are defined by selecting the relationship in the main tab, and then, in the Details entry helper, selecting the desired label role as the value of the Preferred Label property (see screenshot below). In the screenshot below, notice that the second calculation relationship has two labels defined for it. In the Details entry helper, the preferred label has been set to urn:mylabel. So this is the label that is used as the label of the relationship. (In XMLSpy, you can specify, in the XBRL View Settings, that the label (instead of names) is displayed in the display of concepts and/or resources.)

Note:

In Table linkbases, the

Preferred Label

property will not be displayed for

relationship nodes, aspect nodes, and merged rule nodes since it is not possible to specify labels for these nodes.
Default labels
If the Preferred Label property of a concept or resource is not defined, then the default label is used. Default labels of concepts and resources are specified in the the XBRL View Settings dialog.
Label settings in XBRL View Settings
The XBRL View Settings dialog (screenshot below) is accessed via the menu command XBRL | View Settings.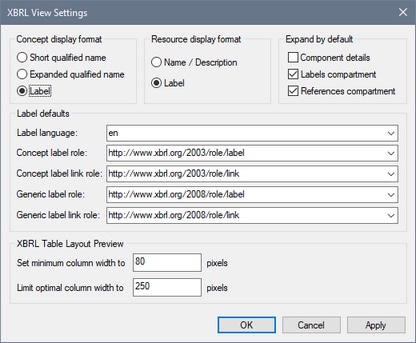 There are two settings in this dialog that are relevant to labels:
•You can specify that concepts and/or resources are displayed with their labels instead of their names.
•You can set defaults for concept labels and generic labels (which are used for resources).