XBRL Table Definitions Editor
The XBRL specifications provide for a table linkbase that supplements the presentation linkbase. Tables provide an alternative way to define views of concepts defined in XBRL taxonomies. Rather than showing concepts as a hierarchy—as the presentation linkbase does—it enables tables to be defined with multiple axes. The components of axes need not be limited to individual items, but can be defined in terms of a combination of dimensions, time period references, units, entities, or any other property that can be used to identify the financial facts represented by taxonomies. An introduction to the syntax and semantics of XBRL table linkbases can be found at XBRL Table Linkbase Overview 1.0 and at Table Linkbase 1.0 Recommendation of 18 March 2014.
XMLSpy follows the Table Linkbase 1.0 Recommendation of 18 March 2014, and uses the namespace http://xbrl.org/2014/table.
While the standard XBRL linkbases (presentation, calculation, definition) define relations between concepts via locators and standard arcs in standard extended links, a table linkbase contains components (tables, breakdowns, definition nodes, etc) and their relations via resources and generic arcs in generic extended links. The table linkbase specification defines a sequence of three models and processes for transforming each model into the next. The three models are: the definition model, the structural model and the layout (or rendering) model. The definition model is a model of the semantic content of the table linkbase. Tables are defined by their axes, and axis definitions are in turn composed of trees of definition nodes.
The XBRL Table Definitions Editor of XMLSpy is implemented as part of the application's XBRL Taxonomy Editor. It is available in the Table tab of XBRL View (see screenshot below).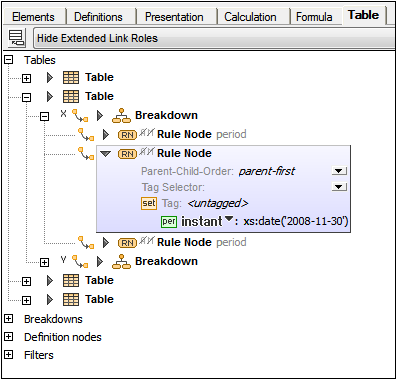 The Table tab is used together with the Overview entry helper and Details entry helper to create and edit table definitions. The Overview entry helper is used to set the default linkbase for XBRL tables (the file in which the table definitions will be saved by default), while the Details entry helper can be used to edit the properties and content of table components. The Table tab itself also enables the direct editing of table definitions.
XBRL Table Layout Preview
In order to preview the layout of a table definition, XBRL Taxonomy Editor provides an XBRL Table Layout Preview pane in Table tab of XBRL View (see screenshot below). When a table or table component is selected in the diagram, a preview of the table is shown in the Table Layout Preview pane below the diagram (see screenshot below). Alternatively, you can select a table from the dropdown list of the preview pane's combo box. This is a list of tables in the table linkbase.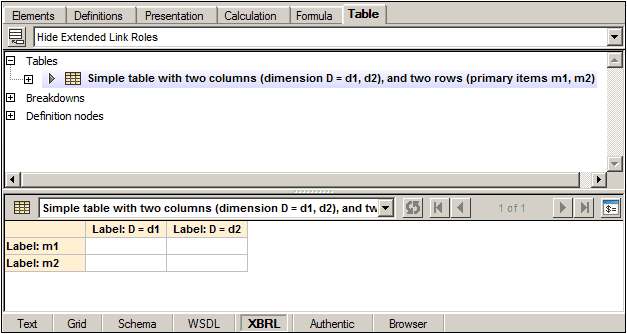 For more information about the preview feature, see the following sections: