The SOAP Debugger Options dialog (screenshot below) enables you to specify the computer's IP address, and other debugger options, which are listed below. Access the dialog with the SOAP | SOAP Debugger Options menu command.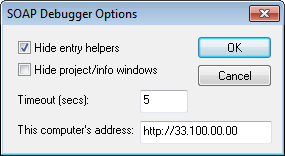 •Computer Address: The address of the proxy server from which the debugger runs. The debugger on the proxy server takes requests from machines on the network and sends them to the web service. Since the debugger runs inside XMLSpy, the machine on which XMLSpy is installed also serves as the proxy server. The IP address of the machine is automatically detected and entered in this field. Only if the IP address cannot be detected automatically, do you need to enter the IP address (as an http address) in this field. To find out your computer's IP address, open a command prompt window, enter the command ipconfig /all, and press Enter.
•Timeout: This value is the amount of time the SOAP Debugger stays in a breakpoint. The default is 5 seconds.
•Hide entry helpers; Hide project/info windows: These options are useful for providing more screen space for the SOAP Debugger window.