The Transform Inline XBRL command is enabled when an XHTML document containing inline XBRL is the active document in Text View, Grid View, or Browser View. The command extracts the Inline XBRL data from the active XHTML document and generates an XBRL document containing the extracted data. The generated XBRL document is opened in a new window, and can be saved to file. In order for the command to work correctly, all resources referenced by the Inline XBRL document must be available for processing.
Processing multiple Inline XBRL documents
You can process multiple Inline XBRL documents by adding the additional Inline XBRL documents to the Inline XBRL Document Set of the HTML tab of the Info Window (see screenshot below). Note that this tab appears in the Info Window only when an HTML document is active in the Main Window.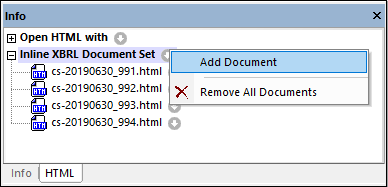 Click the menu button of Inline XBRL Document Set, then click Add Document (see screenshot) and browse for the Inline XBRL files you want to add. When you run the Transform Inline XBRL command, the active file as well as the files of the document set will be processed. The extracted Inline XBRL data from all these files will be combined into a single XBRL document that is opened in a new window.