Definition Node: Dimension Relationship
A dimension relationship node describes a tree of explicit dimension members in terms of a tree walk of a dimensional relationship set (DRS). This tree walk is uniquely identified by one or more relationship sources.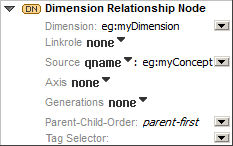 Linkrole: Kind = none | uri | exp
Source: Kind = qname | exp
Axis: Kind = none | value | exp
Generations: Kind = none | value | exp
Dimension relationship nodes cannot have sub-trees.