Working with Source Control
To work with source control, select the project, a project folder, or a project file in the Project window (screenshot below) and then select the command you want in the Project | Source Control menu. The Check In and Check Out commands are available as context menu commands of Project window items.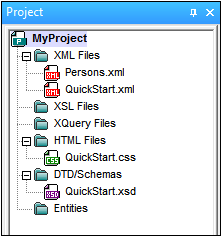 In this section, we describe the main source control features in detail:
•Add to, Remove from Source Control
•Copying and Sharing from Source Control
Additional commands in the Project | Source Control menu are described in the Menu Reference section of the manual. For information specific to a particular source control system, please see the user documentation of that system.