The search term can be entered as a string (select the String radio button) or as a number (Numeric radio button).
String search
In a string search (screenshot below), the entry can be: (i) text; (ii) a QName; or (iii) a regular expression. For QName searches, the namespace is determined on the basis of either the prefix used in the document or by the namespace URI, either of which must be entered. In the screenshot below, the ts: prefix is the prefix used in the document to identify a certain namespace.
To search using a regular expression, check the Regular Expression check box and then enter the regular expression. Entry helpers for regular expressions are available in a menu that is activated by clicking the right-pointing arrowhead at the right of the Search entry field (screenshot below).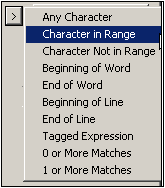 You can also select whether a search term must match a whole word in the document and/or whether the casing in the document must match. Use the check boxes below the text entry field to specify these options.
If you wish to search in referenced objects (such as a complexType definition or a global element), then check the Search In Referenced Objects check box. This option is available only in the Find dialog; it is disabled in the Replace dialog.
Numeric search
When the Numeric Search radio button is selected, the search term can be a single operator-and-number search parameter, or a set of two such operator-and-number search parameters joined by the logical connector AND or OR. In the screenshot below, there are two search term parameters which create a search term for all integers between, and including, 1 and 5.