In this part of the tutorial you will learn: (i) to switch between document editing views, and (ii) to change the default editing view of a particular document type.
Switching between document views
When you open a document it will open in the view that has been set as the default view for that type of document. Open a document as follows:
1.Click the command File | Open.
2.Browse for the file AddressFirst.xsd, which is located in the C:\Documents and Settings\<username>\My Documents\Altova\XMLSpy2024\Examples\Tutorial folder, select it, and click Open. The file opens in Schema View.
3.Switch among the various views by clicking the view tabs at the bottom of the Main window (Text View, Grid View, etc). You will be able to view the XML Schema document in Text View, Grid View, Schema View, and Browser View.
4.You can also change views by selecting the view you want from the options in the View menu. Try switching the view of the AddressFirst.xsd document using the View menu commands.
5.Close the document (via File | Close).
Changing the default view of a document type
All documents with the .xsd extension will open by default in Schema View. You can change the default opening view of any type of document in the Options dialog. Let us do this for .xsd documents now.
1.Click the command Tools | Options and go to the File Types section (screenshot below; note that some options, such as those related to XBRL and Avro support, are available in Enterprise Edition only).
2.In the File Types pane, scroll down to .xsd and select it (highlighted in screenshot).
3.In the Default View pane, select Text View.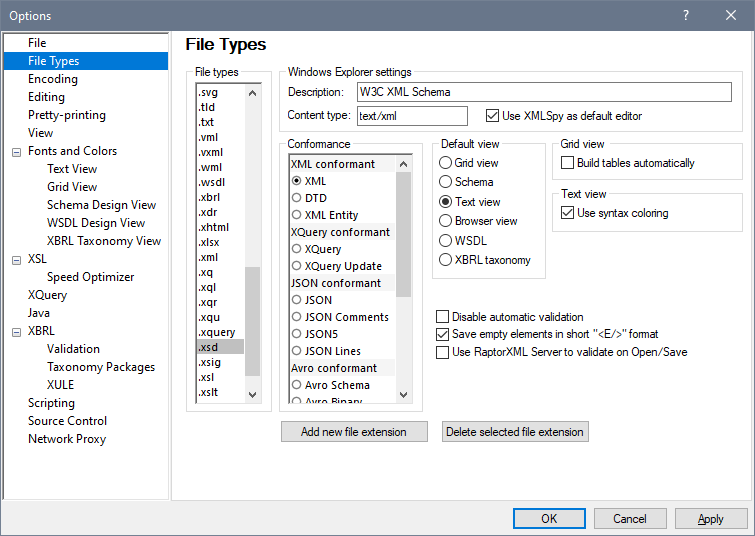 4.Click OK.
5.Click the File | Open command, and open the file AddressFirst.xsd. The file opens in Text View.
6.Switch to Schema View to see the file in this view, then close the file (File | Close).
7.Go back to the Options dialog (Tools | Options), and, in the File Types section, change the default view of .xsd files back to Schema View.
Note:

In the

File Types

section of the Options dialog (

screenshot above

), you can change the default view of any of the listed file extensions. A new file extension can be added to the list via the

Add New File Extension

button.