Connect to SchemaAgent Server

The Schema Design | Connect to SchemaAgent Server command is enabled when an XML Schema document is active and it enables you to connect to a SchemaAgent Server. You are able to connect to a SchemaAgent server only if a licensed Altova SchemaAgent product is installed on your machine. When you click this command, the Connect to SchemaAgent Server dialog (screenshot below) opens: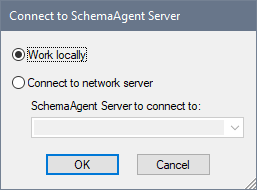 You can use either the local server (the SchemaAgent server that is packaged with Altova SchemaAgent) or a network server (the Altova SchemaAgent Server product, which is available free of charge). If you select Work Locally, the local server of SchemaAgent will be started when you click OK and a connection with it will be established. If you select Connect to Network Server, the selected SchemaAgent Server must be running in order for a connection to be made.
When connected to SchemaAgent Server, XMLSpy acts as a SchemaAgent client, and provides powerful and enhanced schema editing and management functionality. For details about SchemaAgent, the installation of SchemaAgent Server, and how to connect to SchemaAgent Server, see SchemaAgent in the DTD and XML Schema section of this user manual. For more information about installing and working with these two products, see the SchemaAgent user manual that is delivered with these products.
After you connect to SchemaAgent Server, a message appears in the bar at the top of the Main Window with information about the connection. You now have full access to all schemas and schema components in the search path/s (folder/s) defined for the SchemaAgent server to which XMLSpy is connected.
Note: In order for the connection to succeed, you must have Altova's SchemaAgent Client product installed with a valid license on the same machine as that on which XMLSpy is installed.