The Schema Design | Generate Documentation command generates detailed documentation about your XML or JSON schema (see screenshot below) in HTML, MS Word, RTF or PDF. The documentation generated by this command can be freely altered and used; permission from Altova to do so is not required. Documentation is generated for components you select in the (JSON) Schema Documentation dialog (which appears when you select the Generate Documentation command). Related elements (child elements, complex types, etc.) are typically hyperlinked in the onscreen output, enabling you to navigate from component to component. Components with a content model also have links to the content model definitions. Note that schema documentation is also generated for included and imported schema components. The various documentation-generation options for XML Schema are described in the section Documentation Options. JSON schema documentation options are described in the section Generating JSON Schema Documentation.
Note that the Documentation Options are applied on top of the settings you specify in the Schema Display Configuration dialog.
| | |
| --- | --- |
| Note: | In order to generate documentation in MS Word format, you must have MS Word (version 2000 or later) installed. |
You can either use XMLSpy's fixed standard design for the generated document, or you can use a StyleVision SPS for the design. Using a StyleVision SPS enables you to customize the design of the generated documentation as well as to generate PDF as an additional output format. How to work with an SPS is explained in the section, User-Defined Design.
Note:

In order to use an SPS to generate schema documentation, you must have

StyleVision

installed on your machine.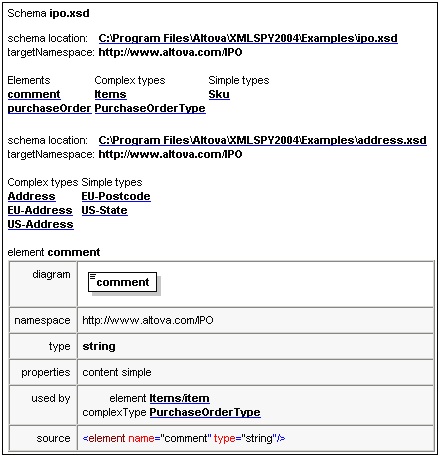 The screenshot above shows generated schema documentation with an index (all related schemas with their global components organized by component type) at the top of the document.
Note:

When generating documentation for W3C schema documents,

XMLSpy

uses application-internal versions of these documents. Consequently, other locations of these documents are not considered, and redefinitions and other schema modifications will not be reflected in the documentation.