Opening Schemas Found in the Search Path
This example demonstrates how to open a schema found in a search path defined in SchemaAgent Server. It uses the DB2schema.xsd file available in the ..\Tutorial folder as the active schema. The Global tab of the Components entry helper is active.
1.
Scroll down to the blue

Company

entry in the Components entry helper, and double-click it. The Goto Definition dialog box is opened.

2.
Click the

Addresslast.xsd

entry, and click

OK

to confirm. This opens the

addresslast.xsd

schema and displays the content model of the

Company

element.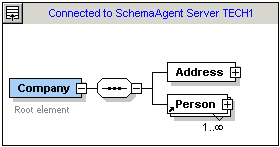 Please note: Double-clicking a SchemaAgent schema construct, such as Element, complexType, or simpleType, opens the associated schema (as well as all other included schemas) in XMLSpy.