The commands to navigate DB table rows are available as buttons in the Authentic View document. Typically, one navigation panel with either four or five buttons accompanies each DB table.

The arrow icons are, from left to right, Go to First Record in the DB Table; Go to Previous Record; Open the Go to Record dialog (see screenshot); Go to Next Record; and Go to Last Record.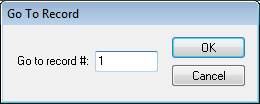 To navigate a DB table, click the required button.
XML Databases
In the case of XML DBs, such as IBM DB2, one cell (or row) contains a single XML document, and therefore a single row is loaded into Authentic View at a time. To load an XML document that is in another row, use the Authentic | Select New Row with XML Data for Editing menu command.