The Keyboard tab allows you to create new keyboard shortcuts, or change existing shortcuts, for any application command.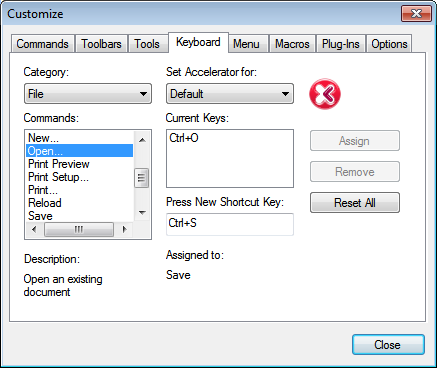 To assign a new shortcut to a command, or to change an existing shortcut, do the following.
1.Select the All Commands category in the Category combo box. Note that if a macro has been selected as an Associated Command, then macros are also available for selection in the Category combo box and a shortcut for the macro can be set.
2.In the Commands list box, select the command to which you wish to assign a new shortcut or select the command the shortcut of which you wish to change.
3.Click in the Press New Shortcut Key text box, and press the shortcut you wish to assign to that command. The shortcut appears in the Press New Shortcut Key text box. If the shortcut has not yet been assigned to any command, the Assign button is enabled. If the shortcut has already been assigned to a command, then that command is displayed below the text box and the Assign button is disabled. (To clear the Press New Shortcut Key text box, press any of the control keys, Ctrl, Alt or Shift).
4.Click the Assign button to assign the shortcut. The shortcut now appears in the Current Keys list box. You can assign multiple shortcuts to a single command.
5.Click the Close button to confirm.
Deleting a shortcut
A shortcut cannot be assigned to multiple commands. If you wish to delete a shortcut, click it in the Current Keys list box and then click the Remove button.
Set accelerator for
Currently, accelerators can be set only as default. No other mode is available.
Default keyboard shortcuts
The default shortcuts of commonly used commands are listed below. An overview of all the application's menu commands is available in the Keyboard Map (Help | Keyboard Map).
| | |
| --- | --- |
| F1 | Help Menu |
| F1 + Alt | Open Last File |
| F3 | Find Next |
| F4 + CTRL | Close Active Window |
| F4 + Alt | Close XMLSpy |
| F5 | Refresh |
| F6 + CTRL | Cycle through Open Windows |
| F7 | Check Well-formedness |
| F8 | Validate |
| F10 | XSL Transformation |
| F10 + CTRL | XSL:FO Transformation |
| | |
| --- | --- |
| Alt + F1 | Open Last File |
| CTRL + O | File Open |
| CTRL + N | File New |
| CTRL + P | File Print |
| CTRL + S | File Save |
| CTRL + F4 | Close Active Window |
| CTRL + F6 | Cycle through Open Windows |
| CTRL + TAB | Switch between Open Documents |
| Alt + F4 | Close XMLSpy |
| | |
| --- | --- |
| Up/Down Arrow Keys | Move Cursor or Selection Bar |
| Esc | Abandon Edits or Close Dialog Box |
| Return | Confirm Selection |
| Del | Delete Character or Selected |
| Shift + Del | Cut |
| | |
| --- | --- |
| CTRL + A | Select All |
| CTRL + F | Find |
| CTRL + G | Go to Line/Char |
| CTRL + H | Replace |
| CTRL + V | Paste |
| CTRL + X | Cut |
| CTRL + Y | Redo |
| CTRL + Z | Undo |
| | |
| --- | --- |
| CTRL + E | Jump between Start/End Tags |
| CTRL + Shift + E | Select Element that Contains Cursor |
| CTRL + Alt + E | Go to Parent Element |
| CTRL + "+" | Zoom In |
| CTRL + "-" | Zoom Out |
| CTRL + 0 | Reset Zoom |
| CTRL + mousewheel forwd | Zoom In |
| CTRL + mousewheel back | Zoom Out |
| | |
| --- | --- |
| CTRL + D | Append CDATA |
| CTRL + E | Append Element |
| CTRL + I | Append Attribute |
| CTRL + M | Append Comment |
| CTRL + T | Append Text |
| | |
| CTRL + Shift + D | Insert CDATA |
| CTRL + Shift + E | Insert Element |
| CTRL + Shift + I | Insert Attribute |
| CTRL + Shift + M | Insert Comment |
| CTRL + Shift + T | Insert Text |
| | |
| CTRL + Alt + D | Add Child CDATA |
| CTRL + Alt + E | Add Child Element |
| CTRL + Alt + I | Add Child Attribute |
| CTRL + Alt + M | Add Child Comment |
| CTRL + Alt + T | Add Child Text |
| | |
| --- | --- |
| CTRL + Dbl-click Element | Display Element Definition |
| | |
| --- | --- |
| F9 | Insert/Remove Breakpoint |
| F9 + Shift | Insert/Remove Tracepoint |
| F9 + CTRL | Enable/Disable Breakpoint |
| F9 + Shift + CTRL | Enable/Disable Tracepoint |
| F11 | Step Into |
| F11 + Shift | Step Out |
| F11 + CTRL | Step Over |
| F11 + Alt | Start Debugger/Go |