XML Schema management for databases enables you to add and delete XML Schemas from the schema repository of an XML database. After connecting to the database, XMLSpy provides the XML Schema Management for Databases dialog, in which XML Schemas can be managed.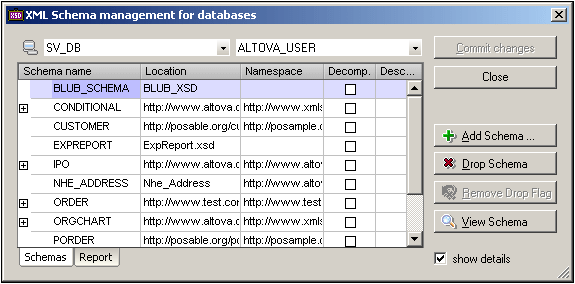 The dialog box provides a Quick Connect

icon which calls the Quick Connect wizard to connect to a data source. If more than one connection currently exists, the required connection can be selected from the combo box on the left-hand side. The required root object can then be selected from the right-hand side combo box. All the XML Schemas currently in the repository for that root object are displayed in the dialog box. The name, location, and namespace of each schema are listed.
Note that the stored schemas can also be viewed in the Database Query window (screenshot below), but they cannot be managed there. To manage schemas, use the XML Schema Management for Databases dialog.
In the XML Schema Management dialog you can do the following:
•Add a schema using the Add Schema button. The selected schema will be appended to the list and marked for addition.
•Mark schemas in the list for deletion with the Drop Schema button. The Drop flag can be removed with the Remove Drop Flag button.
•Open a selected schema in Schema View by clicking the View Schema button.
•Commit the addition and drop (deletion) changes with the Commit Changes button.
After changes have been committed, a report of the commit action can be viewed in the Report tab (screenshot below).