Adding Elements and Attributes
At this point, there is only one Person element in the document.
To add a new Person element, do the following:
1.Click the gray sidebar to the left of the Address element to collapse the Address element. This clears up some space in the view.
2.Select the entire Person element by clicking on or below the name of the Person element in Grid View. Notice that the Person element is now available in the Siblings entry helper.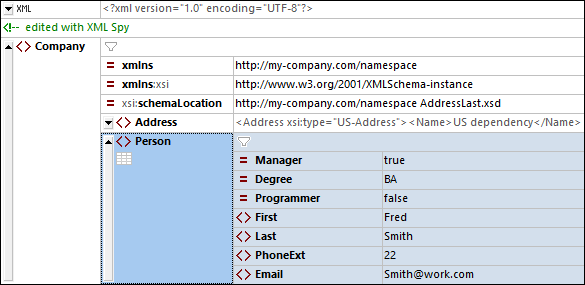 3.Select the Person element in the Siblings entry helper and click either Insert After or Append. A new Person element is appended (screenshot below).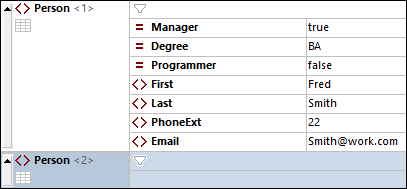 4.When the Person element is selected, you will see, in the Children entry helper, this element's available child attributes and elements. Double-click attributes and elements to add the same child nodes as for the first Person element. When the focus in the Main Window changes from the Person element to an added child element, you can add additional children of the Person element in one of two ways: (i) Switch focus to the Person element (by selecting it) and adding a new child from the Children entry helper; (ii) With the focus on the added child element, add a sibling child element from the Siblings entry helper. In both entry helpers, child nodes of Person that have already been added will be grayed out.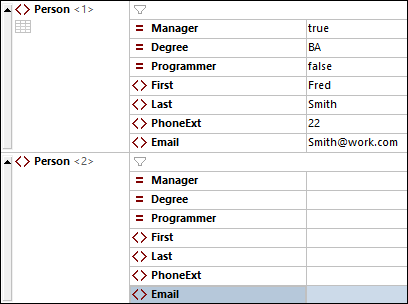 You could enter content for the child nodes of the Person element in normal Grid View, but let's switch to the Table Display of Grid View since it is more suited to editing a structure with multiple occurrences, such as Person.