Share from Source Control
The Share from Source Control command is supported when the source control system being used supports shares. You can share a file, so that it is available at multiple local locations. A change made to one of these local files will be reflected in all the other "shared" versions.
In the application's Project window first select the project (highlighted in the screenshot below). Then click the Share from Source Control.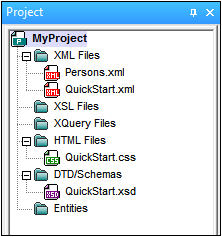 The Share To [Folder] dialog (screenshot below) pops up.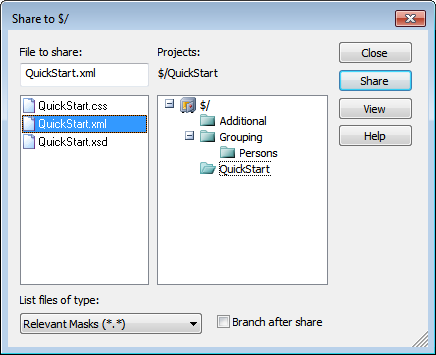 To select the files to share, first choose, in the project tree in the right.hand pane, the folder in which the files are. The files in the chosen folder are displayed in the left hand pane. Select the file you wish to share (multiple files by pressing the Ctrl key and clicking the files you want to share). The selected file/s will be displayed in the Files to Share text box (at top left). Click Share and then Close to copy the selected file/s to the local share folder.
The share folder is noted in the name of the Share to [Folder] dialog. In the screenshot above it is the local folder (since the \$ sign is the folder in the repository to which the local folder is bound). You can see and set the share folder in the Change Source Control dialog (screenshot below, Change Source Control) by changing the local path and server binding.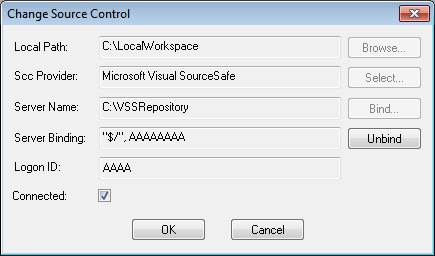 For more details about sharing using your source control system, see the source control system's user documentation.