The DTD/Schema | Convert to UML command converts a W3C XML Schema to an Altova UModel Project (.ump) document (hereafter UModel project). UMP is the native format of Altova UModel, Altova's UML modeling application. UMP files can then be viewed and edited in Altova UModel.
To convert a schema to UML, do the following:
1.With the schema open, click the Convert to UML command. This pops up the Convert to UML dialog (screenshot below).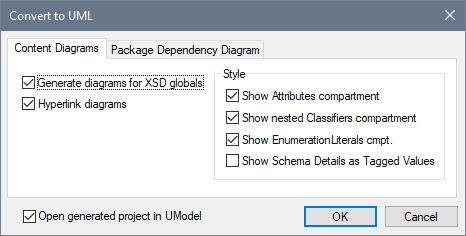 2.In the Content Diagrams tab, select the option Generate Diagrams for XSD Globals. This will generate, in the UModel project, a content model diagram for each global component.
3.Select the required options from those available in the dialog. These options are explained below.
4.If you wish to view the created project in UModel immediately, select the option to open the project in UModel. Otherwise leave this option unselected.
5.Click OK.
6.In the Save As dialog that appears, browse for the destination folder, then enter the name of the UMP file, and click Save.
Convert to UML options
The following options are available in the Convert to UML dialog.
In the Content Diagrams tab:
•Hyperlink diagrams creates in each diagram a link to the entry of that global component in the Model Tree view, thus enabling the component to be quickly located in the schema hierarchy.
•In the Style pane, the show compartments options enables various compartments to be either shown or hidden.
In the Package Dependency Diagram tab:
•The Generate Diagram option determines whether a package dependency diagram is generated. A package dependency diagram provides an overview of the entire package, showing the relationships of package components to one another. Note that the other options in this tab will be enabled only if the Generate Diagram option is selected.
•Selecting the Hyperlink Package to Diagram option creates a link from the package diagram to the Model Tree View.
•Four options are available for the layout of the package dependencies diagram: (i) unorganized layout (Autolayout option unselected); (ii) hierarchical layout (Autolayout and Hierarchical options selected); iii) block (Autolayout and Block options selected); and (iv) evenly spaced (Autolayout and Force Directed options selected). The layout can be modified by editing the diagram in UModel.
| | |
| --- | --- |
| Note: | The Convert to UML feature supports W3C XML Schemas only. |