After you have created a custom .mff file, you can import it into MapForce as follows:
1.Click the Add/Remove Libraries button at the base of the Libraries window. The Manage Libraries window opens.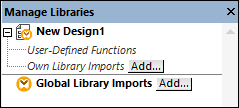 2.Do one of the following:
•To import functions as a local library (in the scope of the current document only), click the Add button under the current mapping name.
•To import functions as a global library (at program level), click the Add button adjacent to Global Library Imports.
Note:

When you import a library

locally

, you can set the path of the library file to be relative to the mapping file. With globally imported libraries, the path of the imported library is always absolute.
3.Browse for the custom .mff file, and click Open.
The imported library becomes visible in the Libraries window after you set the mapping language to a language targeted by the custom library.
If you save the *.mff file in the ...\Altova\MapForce2020\MapForceLibraries folder relative to the Program Files (or Program Files (x86) folder), then the library is automatically loaded into Libraries window when you start MapForce. Libraries and their functions can be toggled on or off, by deleting or adding the respective library file (*.mff).