When you add an Excel 2007+ file to the mapping area without specifying a sample file (see Adding Microsoft Excel Files as Mapping Components ), MapForce creates a default component which includes three worksheets (illustrated below). If you provide a sample file, MapForce reads the sample file and creates only the required worksheets.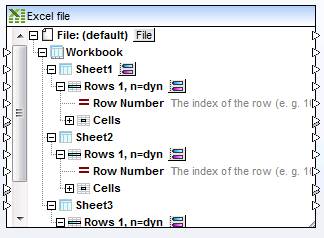 Default Excel component
The structure of the Excel 2007+ component in MapForce reflects the structure of data in the Excel workbook, with the difference that in MapForce it is expressed in a tree structure which makes it possible to map each individual cell.
Before you can connect the Excel 2007+ component to any other component type, you will need to instruct MapForce precisely what are the columns and rows to be used in the mapping. Unlike other MapForce components such as XML or JSON, Excel 2007+ files do not have an explicit schema that MapForce can use to infer the structure of your data. Instead, MapForce provides you with settings from where you can define:
•What data precisely (such as worksheets, named ranges and tables, columns, rows) must be selected from your workbook (if you are reading from a workbook);
•To which worksheets, columns, and rows must MapForce write data (if you are writing to a workbook).
You can also configure the component to read from multiple locations within a workbook, or write to multiple locations, in the same mapping operation.
The required component configuration settings are available directly on the component. Use the following table to get started.