This topic explains how to add an XBRL document to a mapping. To insert an XBRL document, select the menu command Insert | XBRL Document or the

toolbar command. The dialog box (see screenshot below) will prompt you to choose between a packaged taxonomy and a local or remote file.
If you choose to add a prepackaged taxonomy, you will be prompted to select an entry point. If the taxonomy you wish to use is not yet installed, it will automatically be downloaded by the XBRL Taxonomy Manager. If you want to import a local or remote file, you can choose a taxonomy file or an XBRL instance file.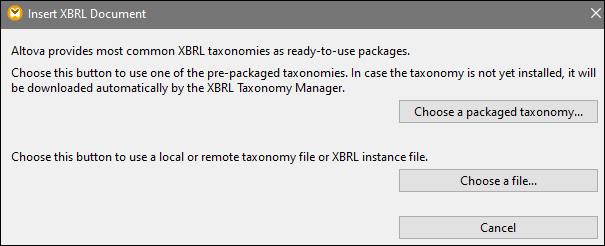 For information about items that can appear in an XBRL component, including their conventional graphical representation, see XBRL Component Items.