Deploying Credentials to FlowForce Server
Credentials may change frequently. This doesn't mean, however, that you need to change and redeploy the mapping each time the credentials change. Instead, you can conveniently deploy to FlowForce Server at any time just a credential object, without making any changes to the mapping. This also enables you to reuse a credential object in multiple FlowForce Server jobs.
Alternatively, you can create a credential object directly in FlowForce Server and then supply it as parameter to the execution step, just like any other FlowForce credential.
To deploy a MapForce credential to FlowForce Server:
1.Open the mapping that contains credentials.
2.Right-click an empty area on the mapping and select Open Credentials Manager from the context menu.
3.Select a record from the Credentials Manager grid, and then click the

Deploy Credential to FlowForce Server button. A dialog box opens where you can enter the FlowForce Server connection details, and also specify the target path on the server: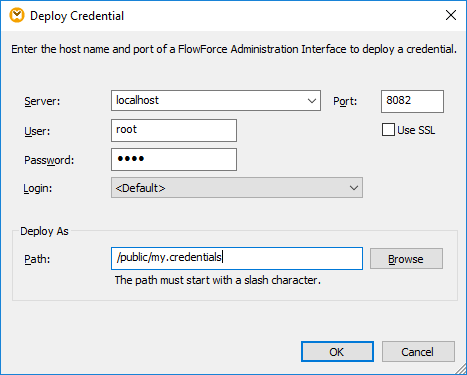 4.Click OK and observe the outcome displayed in the Messages window.
The deployment options are listed below.
Setting

Description

Server, Port, Use SSL

Enter the server host name (or IP address) and port of FlowForce Server. These could be localhost and 8082 if FlowForce Server is running on the same machine at the default port. When in doubt, log on to FlowForce Server Web administration interface and check the I.P. address and port displayed in the Web browser's address bar.

If you encounter connectivity errors, ensure that the machine on which FlowForce Server runs is configured to allow incoming connections on the designated address and port.

To deploy the credential through a SSL-encrypted connection, select the Use SSL check box. This assumes that FlowForce Server is already configured to accept SSL connections. For more information, refer to FlowForce Server documentation (https://www.altova.com/documentation).

User and Password

The user name and password to be entered depends on the value of the Login drop-down list (see next option). If the Login drop-down list is set to <Default> or Directly, enter your FlowForce Server user name and password. Otherwise, enter your domain user name and password, and select the domain name from the Login drop-down list.

Login

If Directory Service integration is enabled in FlowForce Server, select the domain name from this drop-down list, and enter your domain credentials in the User and Password fields (see previous option).

Path

Click Browse, and select the path where the credential should be saved in the FlowForce Server container hierarchy. By default, the path is set to the /public container of FlowForce Server.

You can also create new containers or delete existing containers and mappings directly from this dialog box, provided that you have the required FlowForce Server permissions and privileges.