Credentials may change frequently. This doesn't mean, however, that you need to change and redeploy the mapping each time the credentials change. Instead, you can conveniently deploy to FlowForce Server at any time just a credential object, without making any changes to the mapping. This also enables you to reuse a credential object in multiple FlowForce Server jobs.
Alternatively, you can create a credential object directly in FlowForce Server and then supply it as parameter to the execution step, just like any other FlowForce credential.
To deploy a MapForce credential to FlowForce Server:
1.Open the mapping that contains credentials.
2.Right-click an empty area on the mapping and select Open Credentials Manager from the context menu.
3.Select a record from the Credentials Manager grid, and then click the

Deploy Credential to FlowForce Server button. A dialog box opens where you can enter the FlowForce Server connection details, and also specify the target path on the server: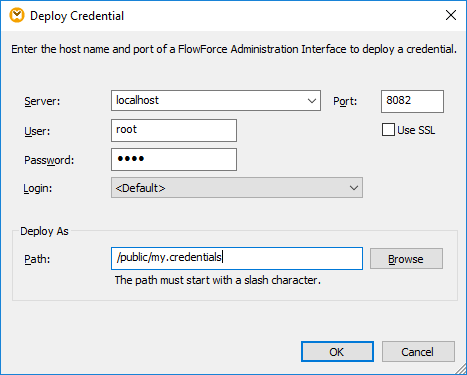 4.Click OK and observe the outcome displayed in the Messages window.
The deployment options are listed below.