MapForce provides various ways to display the XBRL structure inside a component, by means of so-called "structure views". You can select the XBRL structure views either when you add an XBRL document to the mapping area (see Adding XBRL Files as Mapping Components), or at any time later.
To select the structure views to be shown on the XBRL component:
1.On the root element of the XBRL component, click the Show Context Menu (

) button, and then Select Structure Views.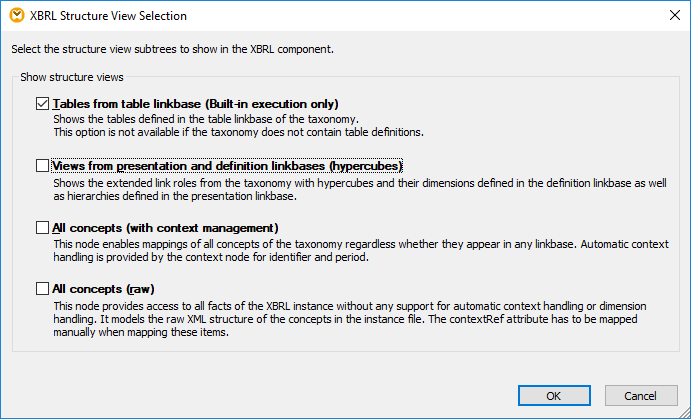 2.Select one or more structure views, and then click OK.
The available structure views are as follows.
Notes
•When reading data from an XBRL component (that is, if the XBRL component is a source component), you can choose any combination of structure views from the context menu

. However, when writing data to XBRL, if the Tables from table linkbase view is selected, it is not possible, for technical reasons, to write data to any other view except this one.
•The Tables from table linkbase view requires that "Built-in" is set as transformation language (see also Selecting a transformation language).