Altova website:

JSON mapping
JSON (JavaScript Object Notation) is a very popular data format for storing and transporting data. In MapForce Enterprise Edition, you can map data from any formats supported by MapForce to JSON, and vice versa. You can also serialize JSON data as a string (for example, for writing to a database), or parse a JSON string into a JSON structure, with the help of a Parse/Serialize components, see Parsing and Serializing Strings.
Similar to other component types supported by MapForce, a schema file is required before you can read or write JSON data. If you don't have a schema file, MapForce can generate one automatically, see Adding JSON Files as Mapping Components. If you supply a JSON schema file not generated by MapForce, then MapForce expects it to be of Draft 04, Draft 06, Draft 07 version, or have no version at all.
The following is an example of how a JSON structure appears in MapForce: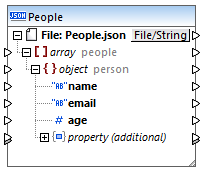 JSON Component in MapForce
As illustrated above, the structure of nodes in the JSON component reflects the structure of the JSON instance file. The basic JSON types are conventionally represented in MapForce as shown below.
There are also special cases, as follows.