Allows you to define a container, which makes its data available as a mappable item, in MapForce. If you do not change the container name in FlexText, then the mappable item appears with the name "Store".
Container default settings are:
The screenshot below shows the "Store" container with its contents visible in the Sample Text pane.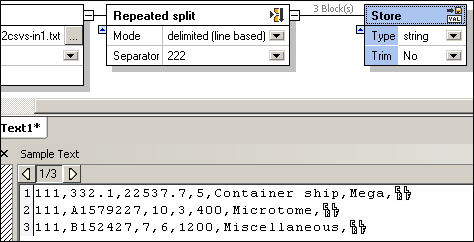 Saving this template and opening it in MapForce, allows you to map the Store item to other items in a target component.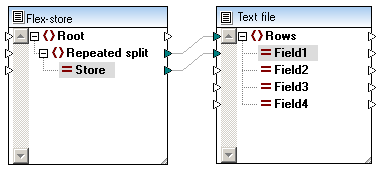 | | |
| --- | --- |
| Note: | The field1 item in the target text file, will contain all 3 fragments supplied by the Store item, when you click the Output tab to preview the result. |
Type
Allows you to define the data type of the text fragments.
Trim side
Defines the side from which the characters will be trimmed: left, right or both. Selecting left, right, or both activates the "Trim character set" option.
Trim character set
Defines the characters you want to trim from this text fragment. You can enter any number of characters here, by double clicking in the field. The characters you enter are removed from the Trim side(s) of the fragment.