Using this option initially creates a single container. The container contains the text defined by the condition set in Repeated Split. There are several versions of the Repeated split option: Fixed length, Delimited Floating, Delimited Line based, and Delimited Starts with....
When you first select this option, default parameters are automatically set and the resultant fragments appear in the associated container. Note that the Repeated Split container is currently active, and the preview displays all current records/lines, in the Sample Text pane.
Container default settings:
| | |
| --- | --- |
| Mode | fixed length |
| Orientation | horizontal |
| Offset | 1 |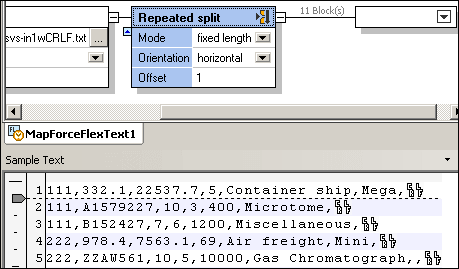 Default result:
Each line of text appears as a line/record in the new container, as the Offset is 1. Click the new container to preview its contents. The Sample Text scroll arrows, let you scroll through each of the 11 blocks/fragments produced by these settings.