Store as FLF (fixed length)

Store FLF allows you to store text fragments as fixed length text, and map individual columns to MapForce. Any number of FLF containers/components can be created in FlexText, and each of the FLF containers may have different fill characters.
The Sample Text pane provides an overview of the current FLF fragment, and also allows you to specify field names, lengths, and widths. Each column appears as a mappable item in the text component in MapForce.
Container default settings are:
| | |
| --- | --- |
| Fill character | (none) |
| First row contains field names | no |
| Treat empty fields as absent | yes |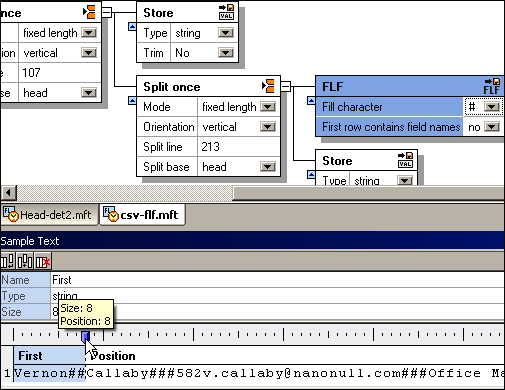 Configuring the FLF container/data
Having defined a container as "Store FLF", the Sample Text pane appears as shown in the screenshot above. A default field of width 10 is automatically inserted.
•Click the tab icon on the ruler and drag to reposition it. A tip appears showing you the current position.
•Positioning the cursor over the ruler displays a "dot"; clicking places a new tab at the click position.

•Having defined the new position, click the field to select it, and edit the name in the Name field.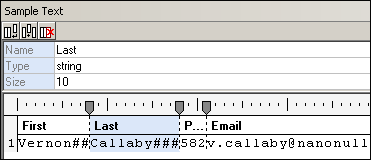 •To remove a field, click the tab icon and drag it off the ruler. The tab icon changes when this action can be successfully completed.
Note:

When you drag a tab on the ruler, all tabs to the right of it will be automatically repositioned. To retain the other tab positions, hold down the

Shift

key before moving the tab.
Clicking a field in the Sample Text pane highlights it, allowing you to further configure it.
•Click the append icon

to append a new field, of length 10.
•Click the insert icon
to insert a field before the currently active field, length 10.
•Click the delete icon

to delete the currently active field.
•Click in the Name field to edit the default text that is presented.
•Click in the Type field to define the field data type: string, boolean, decimal etc.
Inserting the FlexText template into MapForce allows you to map the data to any of the supported target files. In this example, FLF items are mapped to XML items.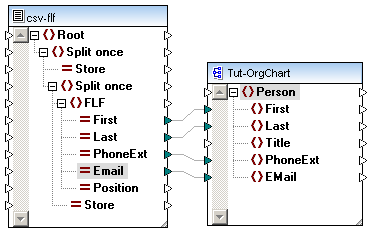 If the option Treat empty fields as absent is yes, then any empty fields in the source file will not produce a corresponding empty item (element or attribute) in the target file. A field is considered as absent if there is no data between two subsequent fill characters.