The Unit Properties dialog (screenshot below right) appears when you click the Template Behavior | Closed Mode command of a Unit template's context menu.
The screenshot above left shows five different Unit XBRL object templates (Pure, Shares, Monetary, Complex, and Ratio). The templates are defined (in the Properties dialog of each) to iterate over a specific type of Unit.
To specify a particular type of unit, in the Properties dialog, select one of the five unit types:
•Pure and Shares are in the namespace xmlns:xbrli="http://www.xbrl.org/2003/instance"
•The Monetary type is in the namespace xmlns:iso4217="http://www.xbrl.org/2003/iso4217"
•The Complex and Ratio types can be in any namespace that you define. The namespaces of measures used for these unit types must be specified in the Namespaces pane of the dialog
For example, if you wish to iterate over the kilometer/hour unit, define the closed mode template to be a ratio that has the appropriate numerator and denominator (see screenshot below). The namespace/s of the units must be defined in the Namespaces pane.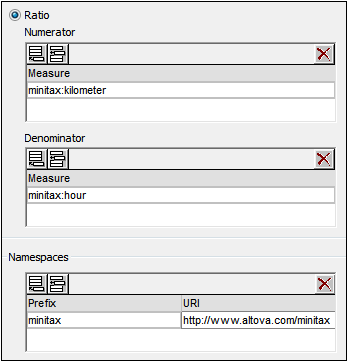 The Unit XBRL object template will automatically be named with the measures of the unit (see screenshot below).

The Unit templates can be used in the following way (see screenshot below):
•To iterate over the aspect value templates inserted within the Unit XBRL object template, and return the values of these aspect value templates
•To select facts in the XBRL instance that contain the defined units. The Item aspect value template within each Unit template, will then return the facts that each closed-mode Unit template selects