The Identifier Properties dialog (screenshot below) appears when you click the Template Behavior | Closed Mode command of the Identifier template's context menu.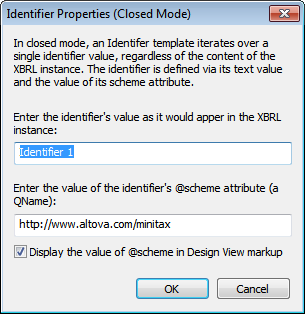 The dialog enables you to specify the Identifier over which the template will iterate. Enter the value of the instance document's Identifier element and @scheme attribute. To display the value of the @scheme attribute in the template tags, check the corresponding check box. For example, the screenshot below shows two different closed-mode Identifier templates.
•The definition of the first Identifier template (Identifier 1) is shown in the screenshot at left. This template outputs the Identifier's value and scheme using the Identifier's aspect value templates.
•The second Identifier template selects all Concept 06 concepts that have an Identifier value of Minitax 1. The Item template within it returns that concept's value.