The Messages window displays any of the following message types: information messages, warnings, and errors. Such messages may occur when you check the project syntax (see Checking Project Syntax), or when you perform code engineering tasks. For more information about code engineering, see Generating Program Code and Importing Source Code.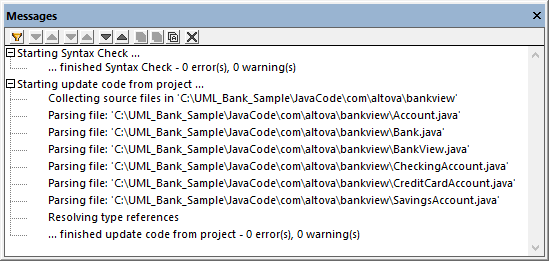 Messages window
The table below lists possible message types and their icons.
The buttons available at the top of the Messages window enable you to take the following actions:
When UModel runs as a Visual Studio or Eclipse plug-in, and parsing errors occur, you can quickly jump to the source code file where the error originates directly from the Messages window. To do this, click the parsing error in the Messages window. For more information, see UModel Plug-in for Visual Studio and UModel Plug-in for Eclipse.